Yesterday, my dear friend Nicole & I took a trip to The Grand Illusion Cinema, to go see my hands down favorite Katharine Hepburn movie - The Holiday.
Classic rom com + thinly veiled social commentary + a brand spankin' new print = yes, please.
Oh yeah, and there is also some Cary Grant involved....
.... Needless to say, I was downright giddy.
Usually Nicole is a total '70s babe, but in honor of the occasion, she let me coerce her into a bit of fashion fun. She stuck with the pants, because "it is Katharine Hepburn after all."
We meant to get real outfit shots, but were running late (totally my fault, of course) and failed to truly catch how snazzy we looked.
We snapped one, and headed off to sneak into the back seats of the theatre.
Good thing we got the back seats, because I doubt anyone would want to sit behind my hat!
I've seen this movie 10,000 times, but never in a theatre. It was like seeing it for the first time. I even cried at the end when (surprise!) he makes the right decision and ends up with Ms. Hepburn. There is something so intense about seeing something on a real screen, in a dark room of strangers.
Remember when movies used to be like magic?
Yeah, me neither, but it's how last night made me feel.
Serious swoon!
Of course, the clothes were amazing, but what really killed me was the jewelry.
OMFG THE JEWELRY.
Then my pal, the internet, told me it was done by Joseff of Hollywood, and it all made sense.
I should've known.
We caught a drink after, because I was still feeling very emotional.
I'm getting emotional again even writing about it!
Must be that female hysteria I keep hearing about.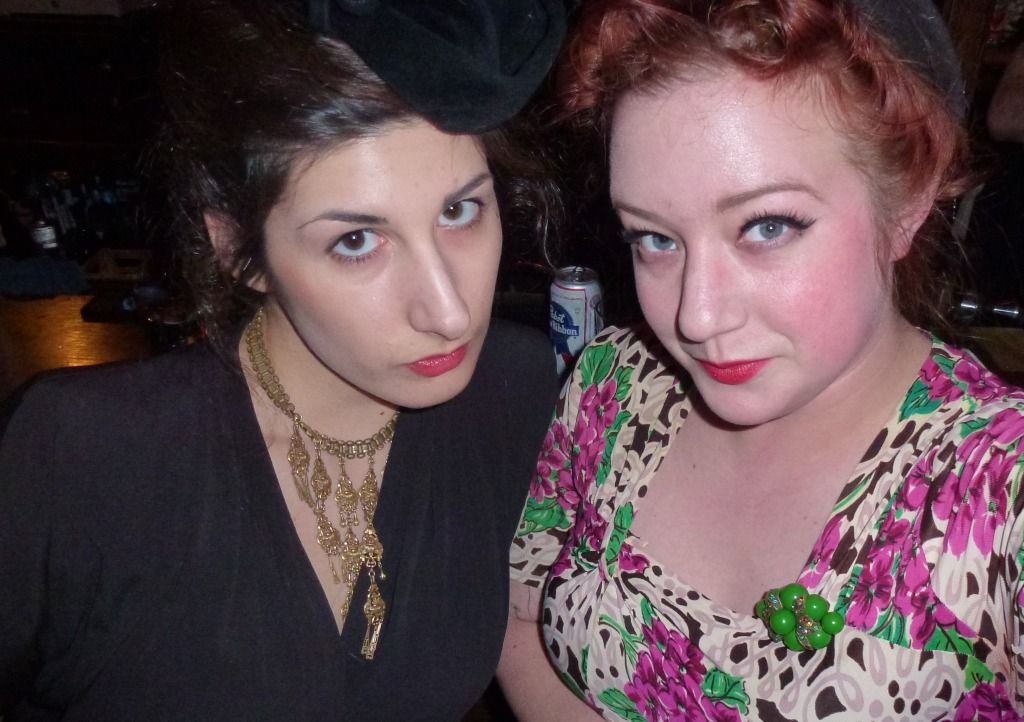 We should all talk Nicole into rocking this look more often! She looks great!
I took one more pic when I got home, since my rolls turned out okay, and I'm in love with this hat. It has bows on either side of the crown. And for $14.... yeah, duh.
New York Creations, of course - gets me every time!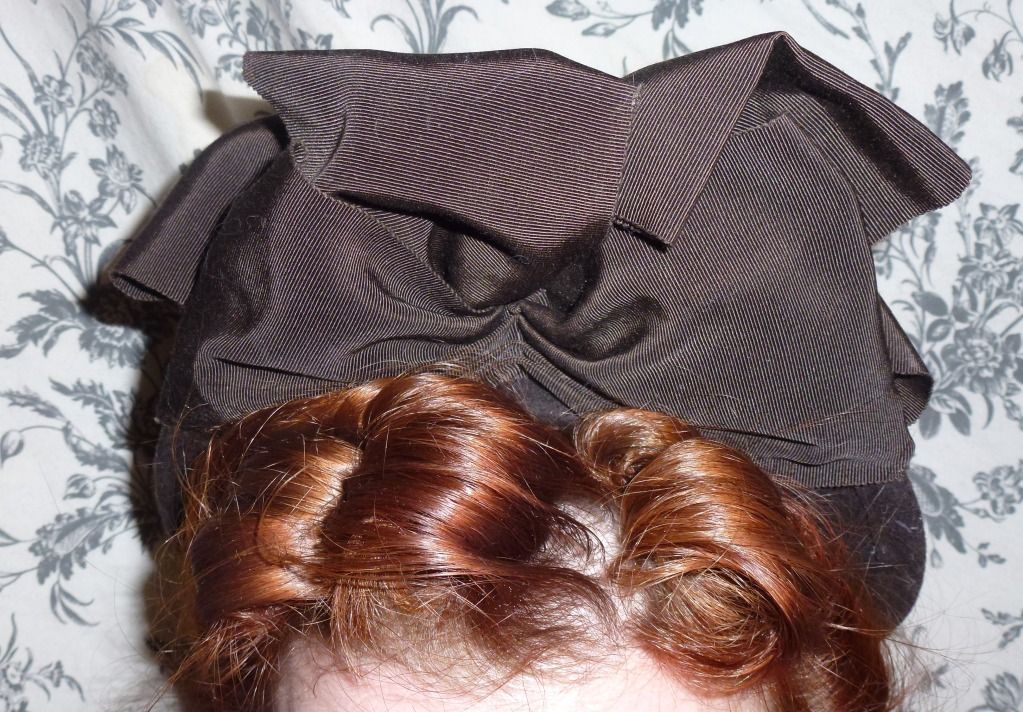 Not my best post, but if it makes you watch the Holiday, then I'm happy.
Also, you should read this
article
on Katharine Hepburn, as well as The Holiday. Pretty much summarizes, and elaborates on, why you should adore her for always.
Oh, and everything else in this
Scandals of Classic Hollywood
series, because it's to die for. It will make you both laugh uncontrollably by yourself - like to the point you need to take a break from the article - as well as offer an intelligent (and much needed) feminist view on the past.
On Nicole:
1940s hat: I completely forget, haha.
1940s blouse: Red Light .... on their sale rack.... for $3?!?! Alright then.
1930s necklace: A fruit stand / antique store in Yakima, WA. Probably the only time I'll ever buy '30s brass and local jam in the same transaction.
On me:
1940s hat: New York Creations, Red Light
1940s rayon jersey dress: Uhhh... somewhere?
1940s snake skin shoes: Red Light