After writing yesterday's post, I did a little poking around on the ol' interweb, hoping to find something on the couple in this telegram.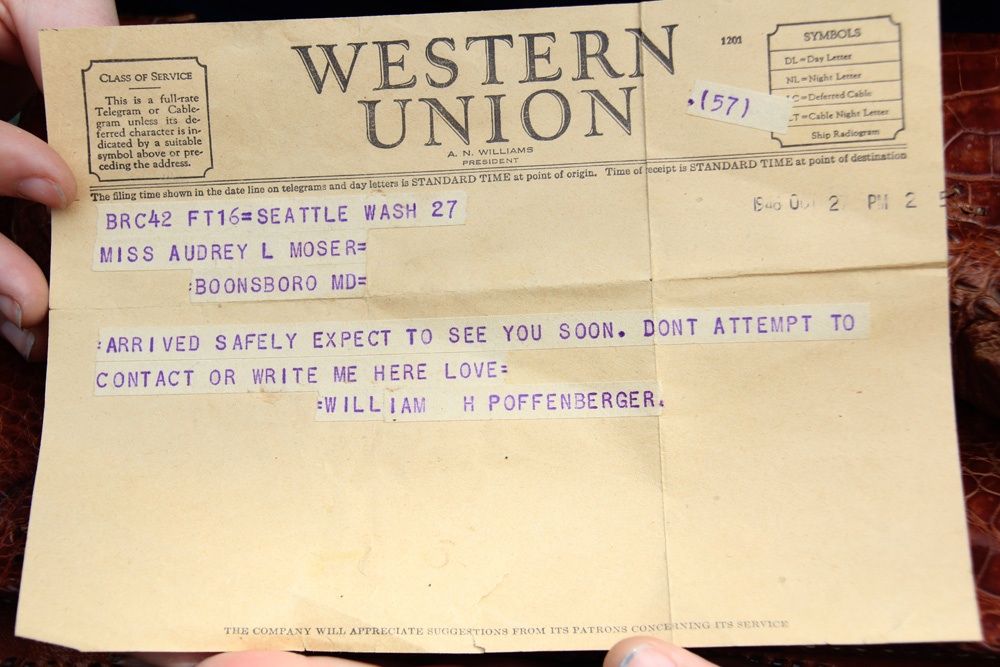 I never thought I would actually find anything, so I'd never tried before. Welp, I was wrong.
Sadly, I found information via William's obituary, as he passed 10 years ago. Audrey passed in '86.
But! From the obit, I found out they were married & had 5 children, the youngest of whom I talked to on the phone this morning.
It was one of the strangest calls I've ever made, and probably one of the oddest she has ever received. I was very nervous, and was shaking a little bit. But I'm so glad I called! I wasn't romanticizing the situation at all! This really was the telegram send to Audrey after William got back from serving in the Pacific!
UH-MAZING.
There are still a few pieces of the puzzle missing. Obviously, he landed in Seattle first on his way back to Maryland, and sent her this telegram. So how did it end up being accidentally purchased by me, in Seattle? I have noooo clue. Any ideas?
Tomorrow, I'm saying goodbye to the telegram & sending it off to the rightful owners in Maryland.
It makes me super happy to be able to return it to the family, all these years later!!
Hooray!
This is a great example of why I love vintage. Everything has a story. There's no such thing as a 70 year old garment without a story. Even if there is no way of ever knowing it, I still get a high off of imagining what it may be - where previous owners wore a dress, paired with what, and how it made them feel about themselves. There are instances when I get a bit more info, like this telegram, and it makes me feel like a million bucks.
<3