Hello, hello!
Today, I'm going to share a bright '40s party ensemble, but first...
Three cheers for crutchless mobility!
I even danced last night... I can't say it wasn't hilarious, but oh so worth it!
Best thing about the walking boot?
It's pretty tall, so I actually have to wear heels with it. HA!
Makes me happy!
Other things that put a grin on my face...
Tah Duhhh! Sparkly purple '40s dress!
Sometimes, old things have problems. This dress' problem?
Light fade. Silly rayon!
In this case though, I'm actually super into it. Light damage tends to be in the usual places - shoulders, one side of the garment, sometimes just the hem.
Not this time! I think it's pretty.
Regardless, the details more than make up for the color variation.
Those sleeves!
Sequined peplum insanity!
Buttons down the back!
Squeee!
Fancy pants beaded '40s purse & my favorite '30s bangle.
A lot of people who see this bangle assume it's bakelite, so I feel like
not
specifying is tantamount to lying. It's carved wood! Perfect, because if it
were
bakelite... I probably couldn't afford it, haha.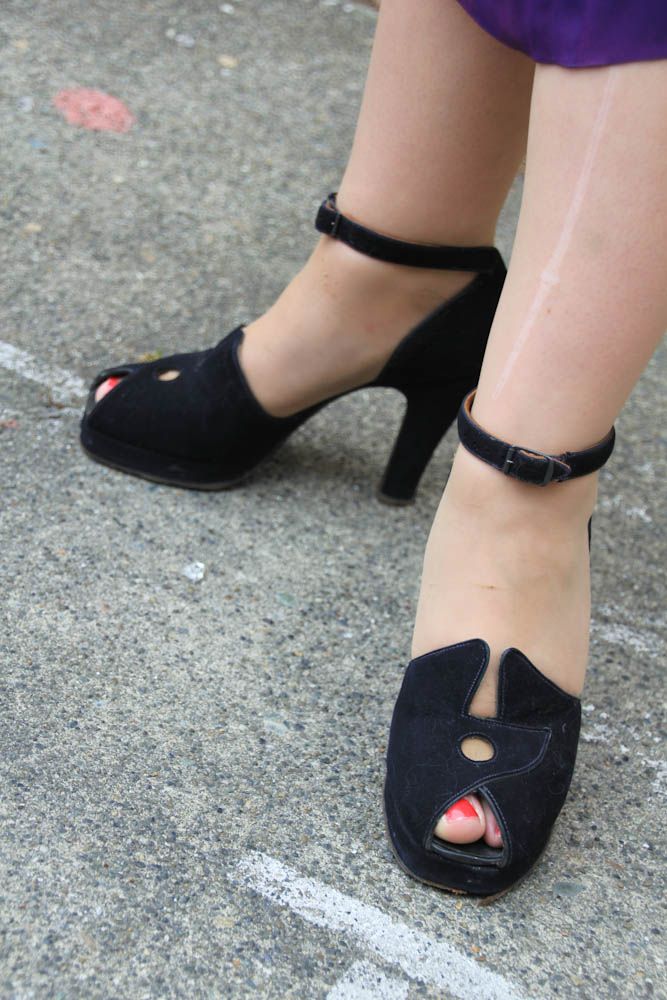 Shoes = The best $10 I've ever spent. Omg, thanks etsy.
1940s dress: Red Light... I think?
1940s heels: Etsy
1930s bangle: Rhinestone Rosie