Hello to all my lovely followers!


Well, it's officially Fall! Huzzah! I'm feeling great & am super looking forward to some life changes coming up here. I've been seeing a lot of "Autumn goals" posts on other people's blogs, and it really got me thinking about what my own goals are.
Honestly, I've been feeling a bit lazy, uninspired, and just... stagnant lately. I really needed a big slap in the face, but sometimes it's hard to muster motivation. Especially when I'm feeling a bit low. I'm sure I'm not the only one who feels this way sometimes. What do you all do to snap yourself out of a funk? I needed a big change. So here's what I'm doing - working more (because I'm certifiably insane), and moving into a new place!
I don't get to move in til the end of October, but I'm really looking forward to it. I'll have a roommate again! I'll live a little "further out" if you will, but the rent will be much, much cheaper & I'm hoping it'll force me to stay at home a little more often. This is what I want: finish more projects (even if it's just mending!), read more books, be more proactive about saving money. I can do this! What are your guys' Fall goals?
Anyways, enough of my rambling. Onto what you are actually here for;)
This is a pretty standard "everyday" outfit for me, and I've been wearing this coat a lot lately.
It's just the perfect it's-slightly-chilly-but-not-really coat. And I absolutely adore the tailoring of the shoulders. It creates the perfect strong '40s shoulders, no shoulder pads necessary!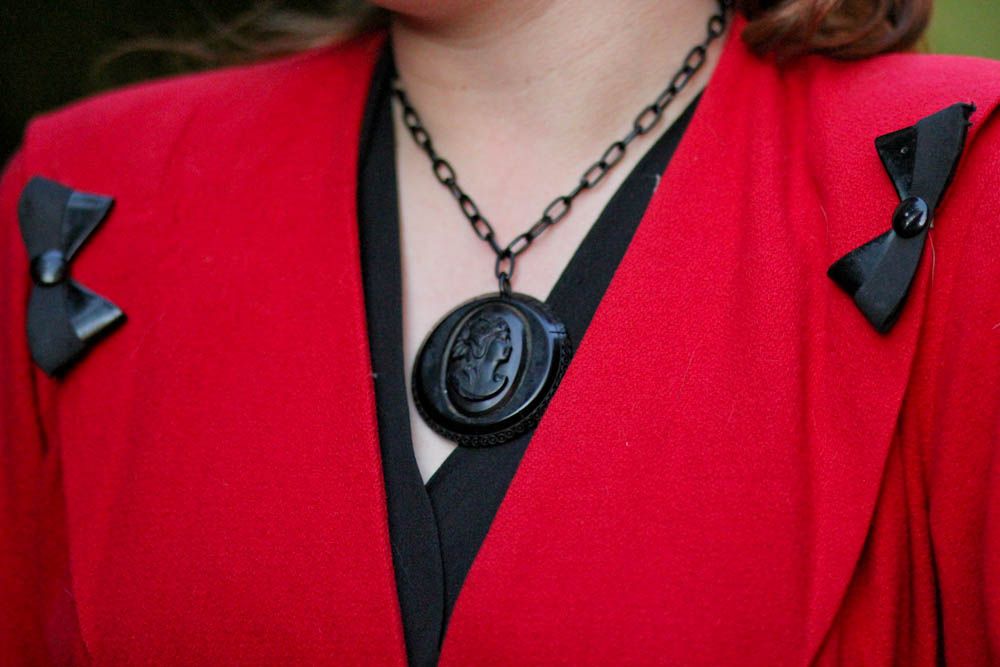 Those bows are actually shoe clips, not dress clips. The canvas WWII-era shoes they came on finally encountered their true death. I literally danced them to the ground. As in, they crumbled on a dance floor... but at least they went out with a bang! (Although... that was not a fun walk home.) In any case, I wanted to find a new use for these lil bows. I'm into it.
Want to see the best part about this coat?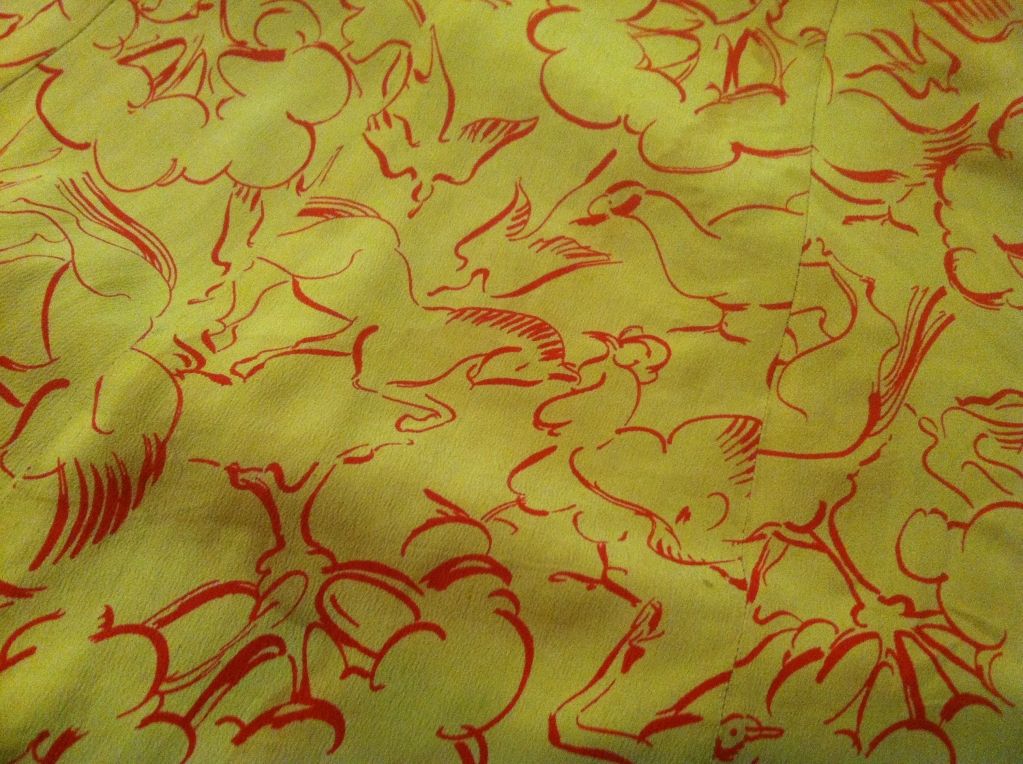 TAH DUUUH - THE LINING!!
Chartreuse rayon, with horses, roosters, doves & trees.
(Novelty print nerd alert.)
I have a hunch the coat originally had a matching dress, made of the same material as the lining. I bet it was a devastating set. A girl can only dream.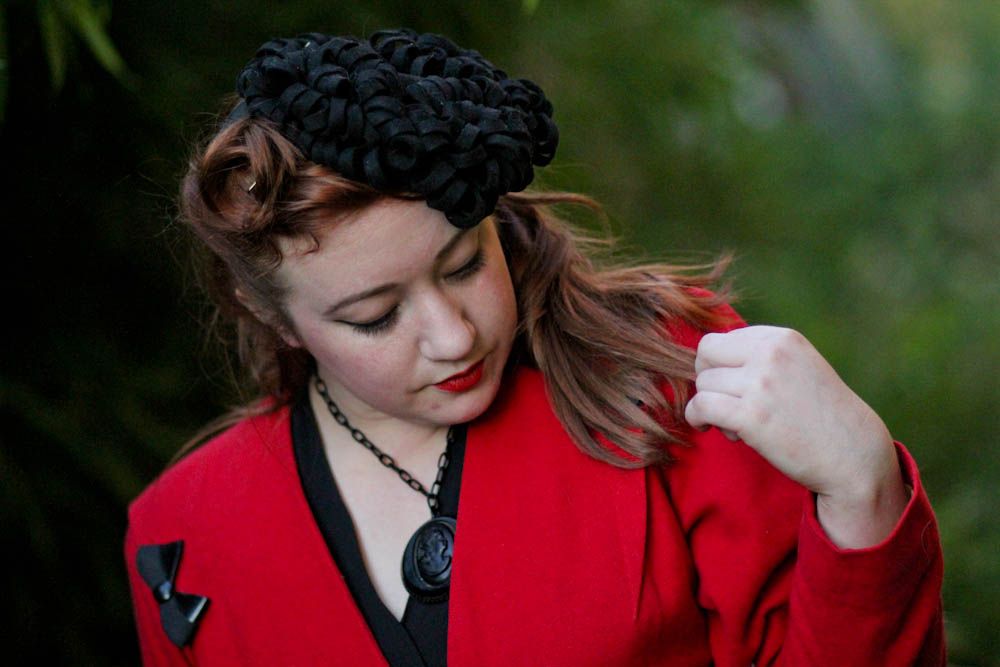 I've been wearing this hat a lot lately as well. The front is covered in wool curls & it seems to effortlessly pair well with everything. It's striking, and yet totally low-maintenance.
Last but not least, I wanted to share some recent photo booth pictures with ya'll. They were taken on a later date, but they are wonderful. I wish I
always
looked like this...yikes!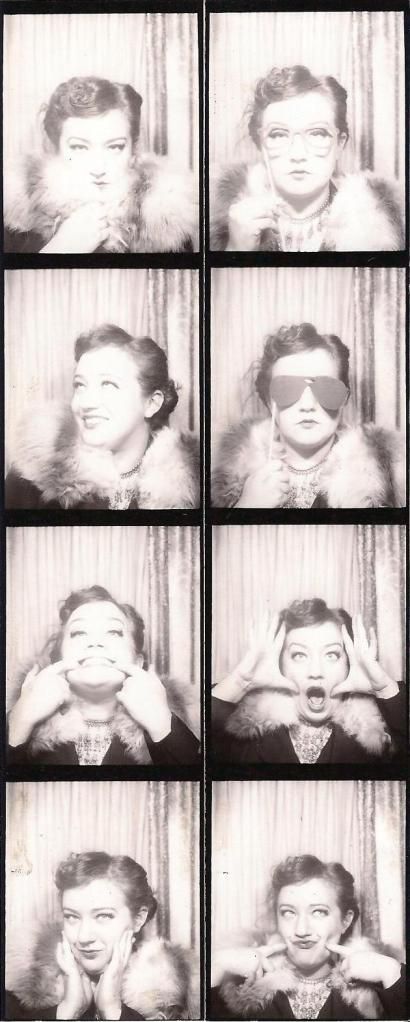 Welp, that's all for today! I hope you all are doing well & feeling fabulous!
1940s hat, 1930s necklaces, fox fur: antique stores