Hello darlings! It's finally hot in Seattle.... aaand I'm melting.
The grass is always greener, yeah? So here I am - drooling over these knitwears from a December 22, 1940 Life magazine. But really, regardless of the time of year, these are tip top. Besides, I think I have some Australian followers out there too. Bam! Justified.
...............
The Smart and the Young Knit Sweaters Like These
That knitting has now become the pastime of the smart and young is conclusively proved by the sweaters pictured on these pages.
When only spinsters and grandmothers knitted, whether for themselves or for their young, the output was mostly functional and bulky. Now with college girls, debutantes, career women and even Elsie the Borden Cow all taking to knitting, needlework shops and yarn manufacturers have put new pep and zip in their yarns and instructions. The results may make grandma blush but they have created a boom in the yarn industry.
Knitting, a pursuit that looks extremely complicated to the uninitiated, can be and frequently is mastered even by nitwits. Novices usually start with simple sweaters like the white one worn by the model above. Any of the sweaters on this page can be finished in from 12 to 36 hours actual knitting time. For those eager to try their hand at duplicating any of these garments, knitting instructions are available.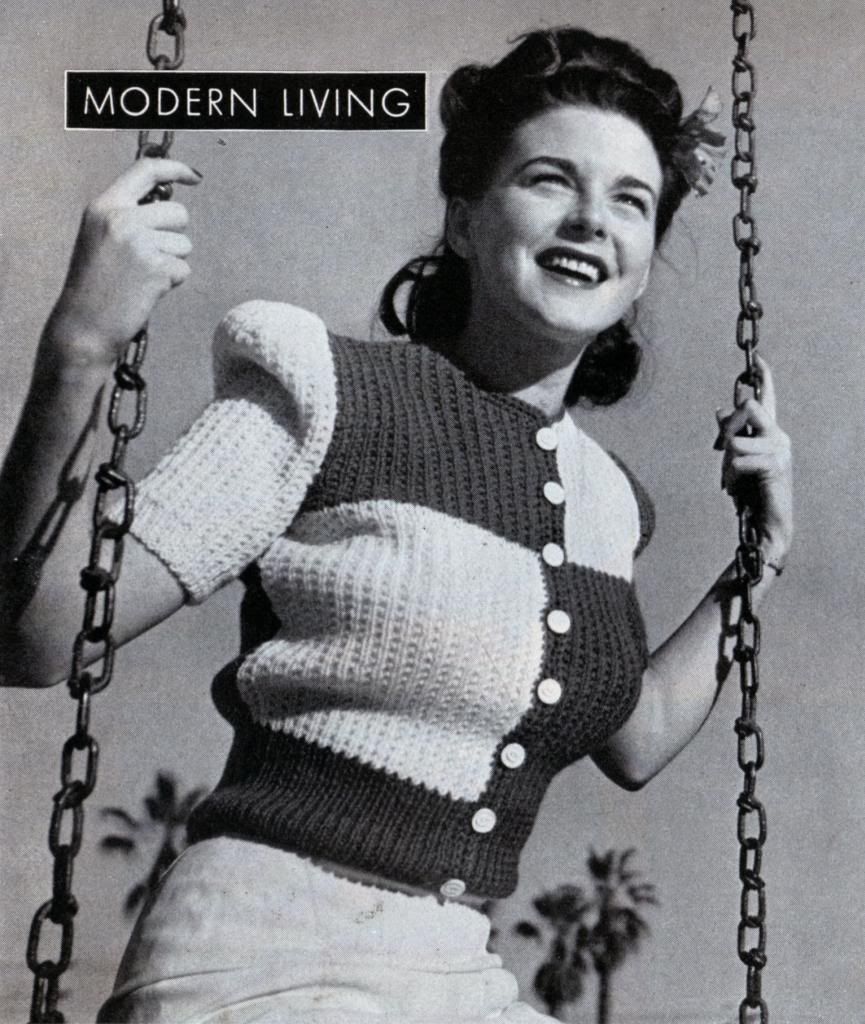 This checkerboard sweater is a "jiffy knit", and can be made in 12 hours
This pullover made with trick stitch has different pattern on underside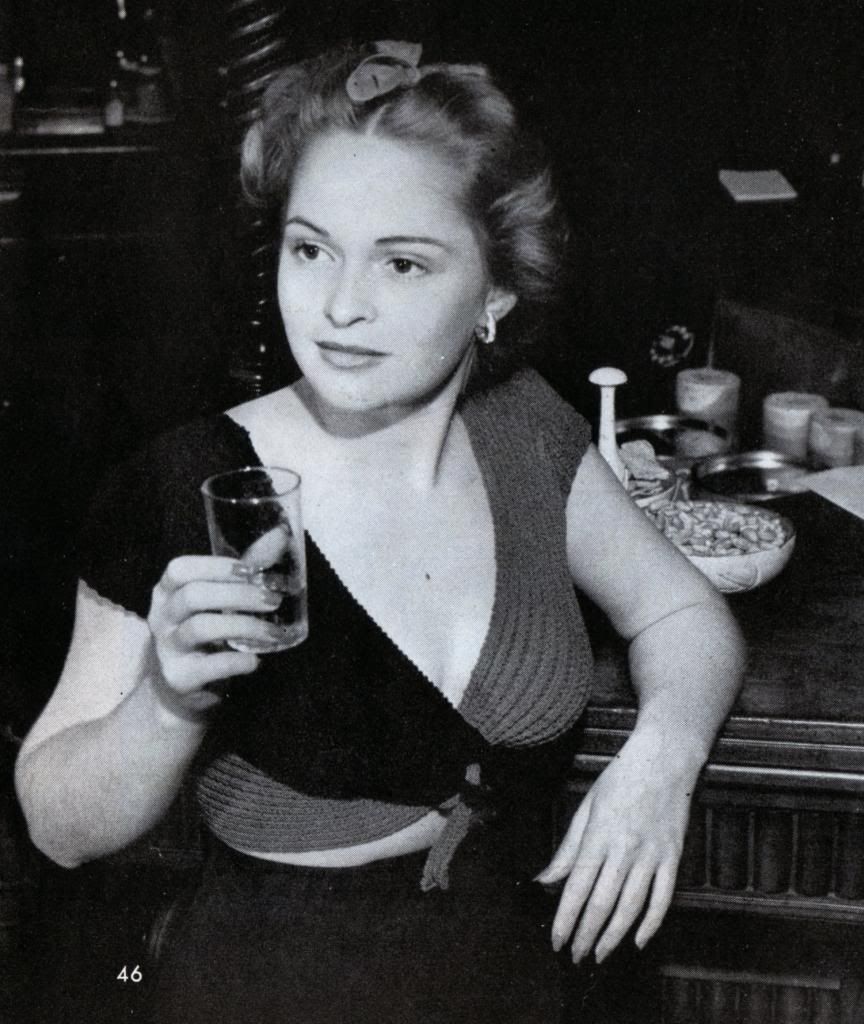 Midriff sweater consists of two pieces held together by center tab
Boucle wool, silver thread, are knitted together in this evening sweater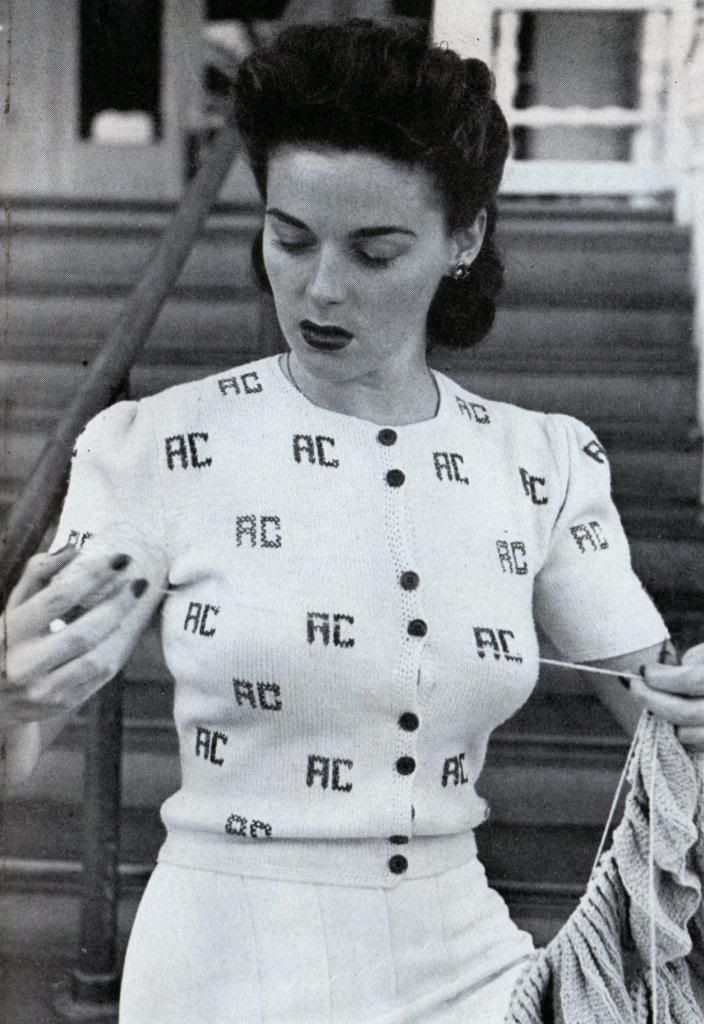 Duplicate stitch is used to make the inititals on this cardigan
In 24 - 36 hours this deep v evening sweater can be finished
Skating outfit has brief pants, pullover top, cap done in mock cable stitch, takes eight skeins of Shetlandown for top, seven for pants, and can be knit in 22 hours.
Lumberjack is made of 2-ply heavy zephyr wool in stockinette stitch with large wooden needles. it requires 10 skeins, costs about $6, and can be finished in nine hours
I love them all... I really can't even pick a favorite. What about you, can you pick just one?
On an unrelated-to-this-article note, I have to also share the cover of this issue. The story related to the cover was pretty boring, but AHHHH THE CLOTHES! We know I'm super obsessed with 40s clothes that look like they could be 80s clothes, and this is the creme de la creme of 40s does 80s.
I may or may not have pulled it off the magazine rack while repeatedly (and probably loudly) going "AHHHHHH! AHHHHHH!"
Are you freaking kidding me?! Her gloves, those furry buttons, the military inspired blazer, the chain necklace, the hat, the pageboy hair = I'm dead now. Not to mention her beau's outfit, with the contrasting zigzag & houndstooth prints... *headdesk*
Oh geez, now I'm all riled up. Thanks for (possibly reading) all the enthusiasm.
xox
Sara