Hooray summer! Perfect opportunity to share this article from Life magazine, July 9, 1945... a few days shy of 68 years ago.

This particular article includes a historical timeline of vintage swimsuits, modeled by a Life model. So not only do you have the benefit of drooling over the 1945 suits, you get to lust over the previous 30 years of swim style as well. Well gee, you twisted my arm.
....................
Bathing Suits
They have come a long way but cannot go any further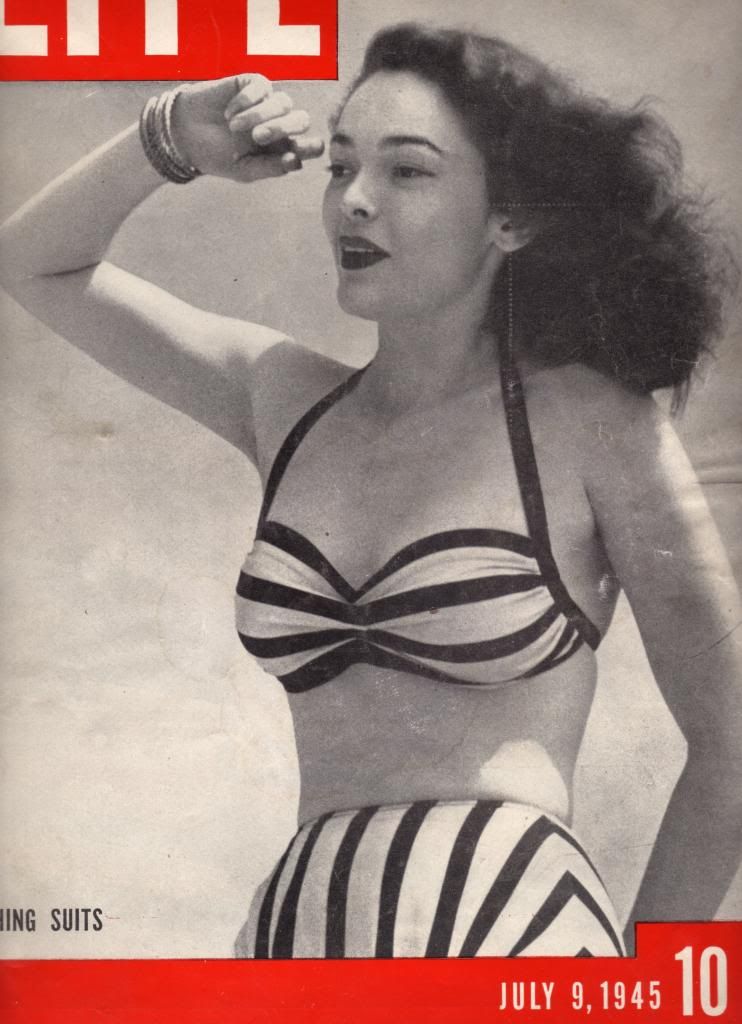 In 1905 a lady's bathing suit was made of ten yards of material, in 1945 it is made from one. Between these two statistics and these two dates lie a social revolution and an annually expanding area of bare, brown flesh. The revolution has made it quite permissible for even the most proper women to appear on public beaches in costumes which used to be seen only in the rowdiest cabarets.
Prior mover of the revolution was Annette Kellerman, the first famous woman swimmer. In 1910 Miss Kellerman became more famous by discarding the ruffles and heavy corset that went with bathing dresses and appearing unabashed in a tight, one-piece suit. This set a pattern for the Mack Sennett girls and the Atlantic City bathing beauties, who found that scanty suits could bring fame and fortune. Then in 1926 Gertrude Ederle wore only brassier and shorts to swim the English Channel. Her brief costume was chosen for athletic reasons but it gave many nonathletic women an idea. The U.S. took up the cult of sun bathing. Nudity was acclaimed as the secret of good health. It was easy to rationalize, though not to prove, that the more bodily area exposed and tanned each summer, the fewer colds next winter.
Since 1930 U.S. bathing suit manufacturers have made money by cutting something more off their suits each year. Neither sermons nor ordinances nor arrests have slowed the steady progress for bloomers to one-piece suit to bra and diaper pants, a progress recorded on the following pages in a series of suits modeled by Pamela Randell. But in 1945 both maker and wearer are at the end of their rope; there is - or seems to be - nothing more to cut off.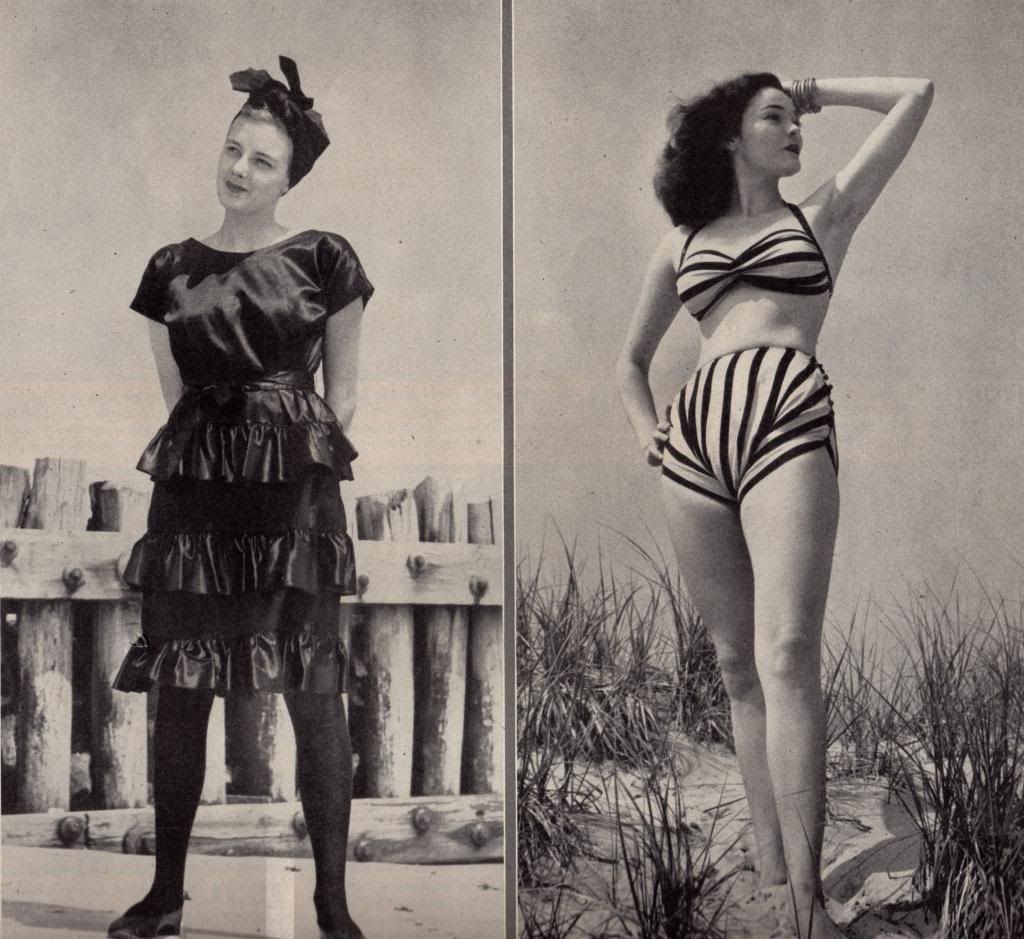 Thirty years separate the two suits above. The 1915 model (left) cost $30, the 1945 model (right), $13.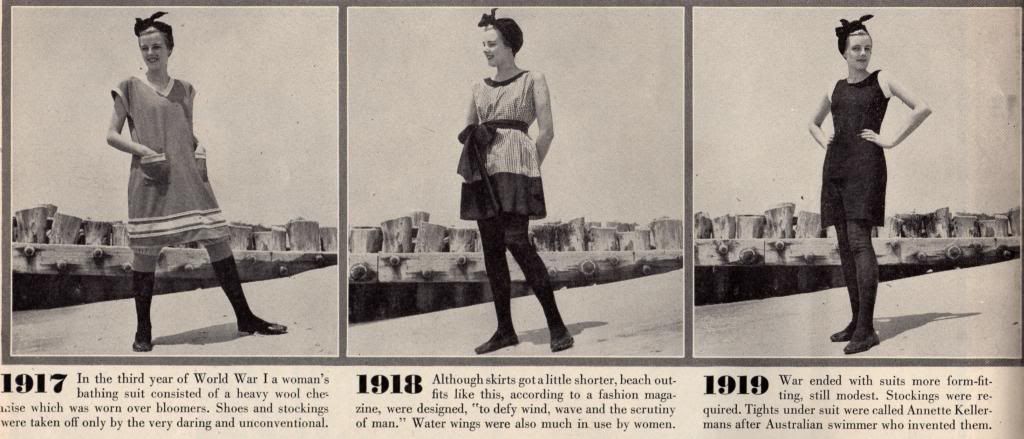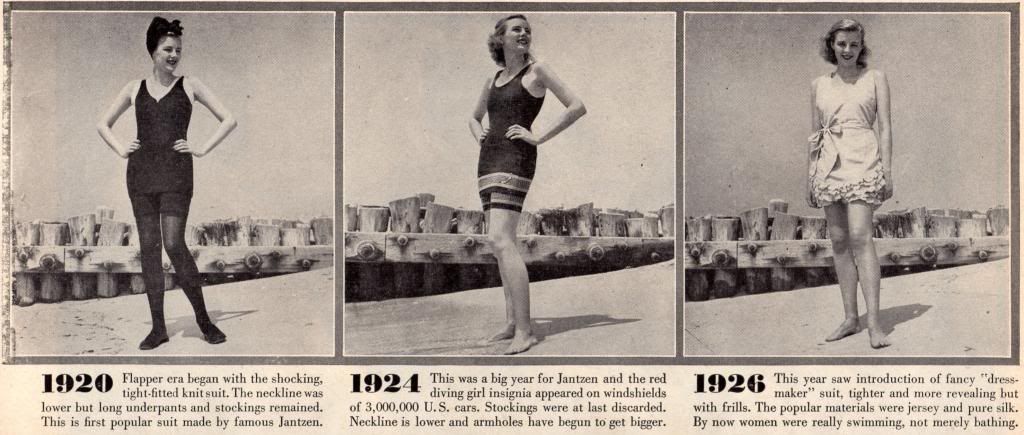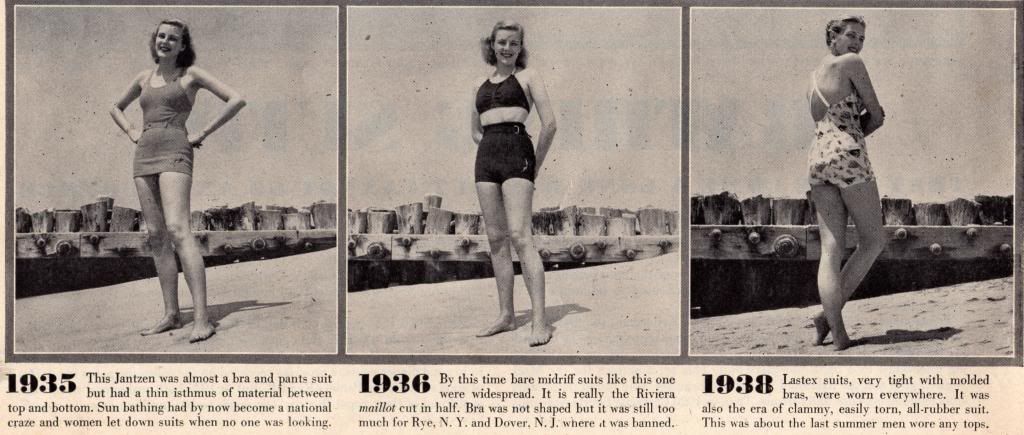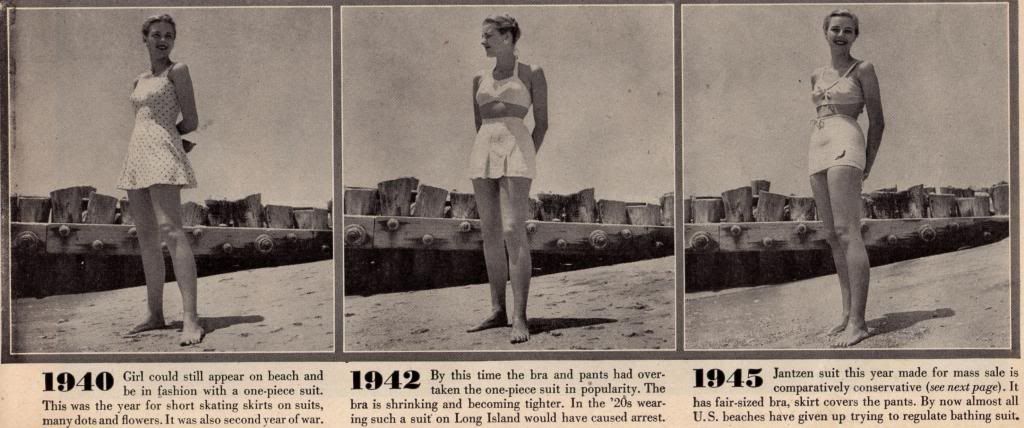 California suits are styled for active swimming. Strictly functional, they have no shoulder straps, minimal diaper-style pants. These suits are ultimate development of the skintight knitted suits which first appeared in early '20s.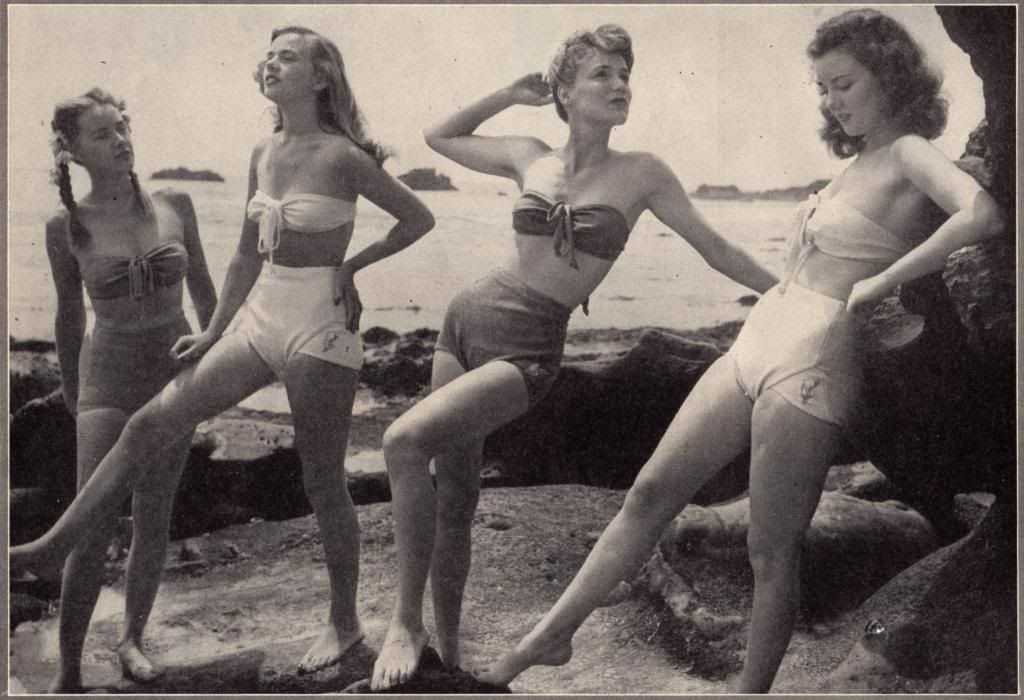 East Coast suits are more dressy and feminine. Made of draped material they hint the beginning of the retrogression to ruffles and frills. Many have long detachable skirts. In the picture below, the suits are paired to show each with and without skirt.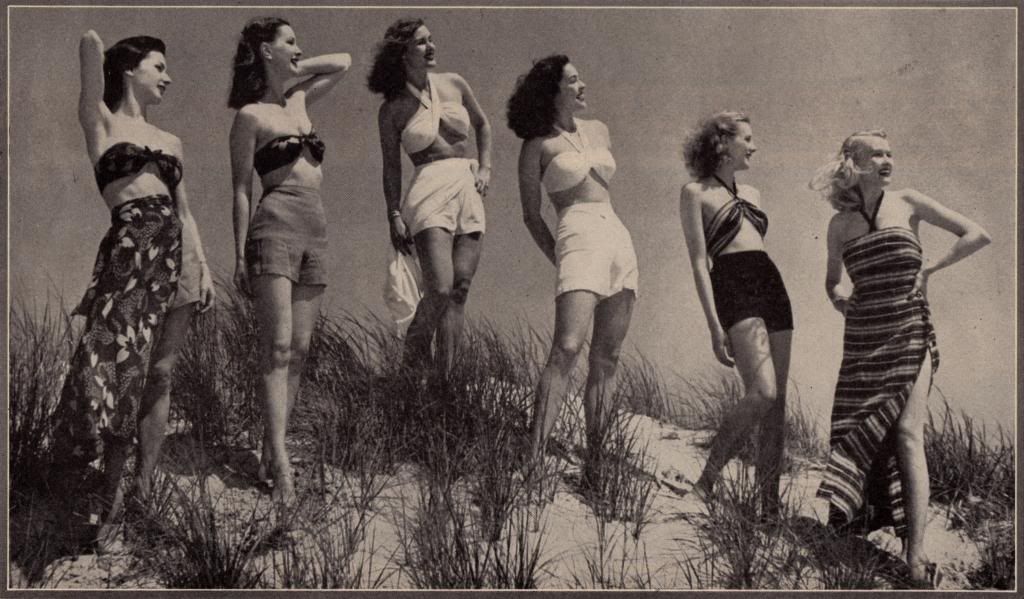 What are your favorite years? My hands down favorite was 1931, that deco print is incredible. I'm imagining it in white, red & black. Not surprising, since the early 30s slaughtered beach fashions (think beach pajamas.. enough said.) Realistically though, that 1938 number is the one I'd wear to death. Can't precisely tell what the print is.. but it sure as heck looks like a novelty one. Fml, want.
I love their intro: Really guys! You can't cut off any more fabric! And then we all laugh, laugh, laugh, because we have 70 more years of fashion history making that a hilarious statement.
This article made me wonder: All those Catalina suits in the California photo (you can just make out the Catalina label) are very much reminiscent of Claire McCardell's 1942 diaper swimsuit. Had McCardell's style popularized to the point where it was seeping into other designs? Or was Catalina actually just stealing that? Obviously, Catalina had been making swimwear long before McCardell, but that's irrelevant. My curiosity is piqued, if anyone knows more, please share the wealth.
Hope you are all doing fabulous!
xox
Sara