Ladies and gentlemen, introducing one of the most cringe-worthy fashion article title & introductory paragraph I've read in quite a while.
Frilly Blouses Offset Mannish Suits,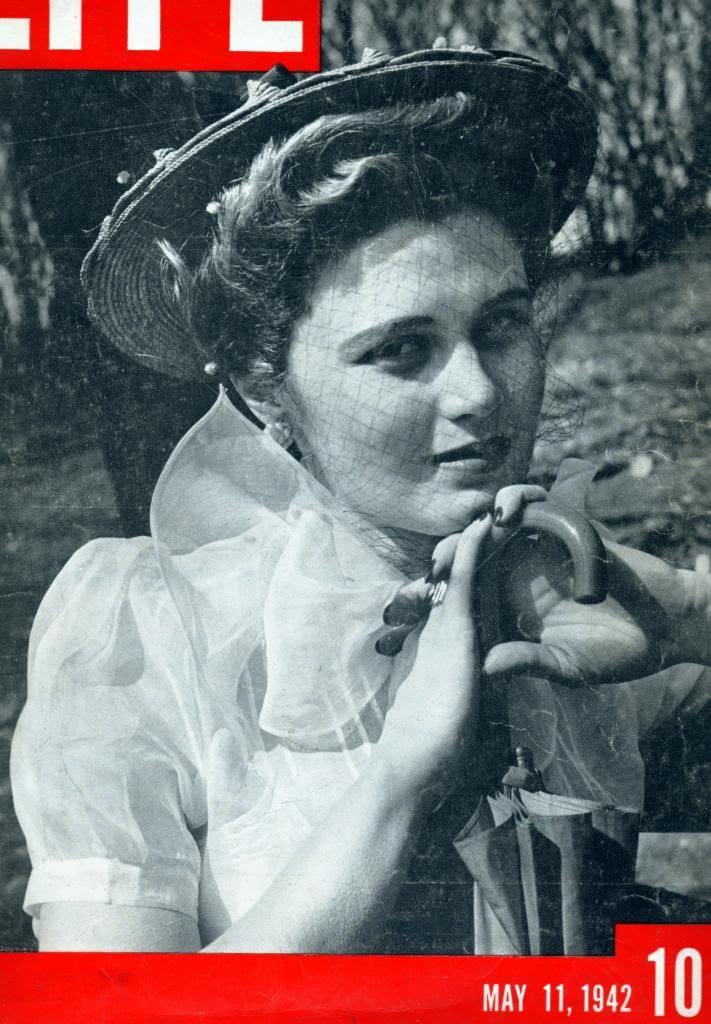 Men react to a woman in a frilly blouse much as a woman reacts to a man in uniform. A sheer white bow or ruffle tucked under the chin makes a man turn and look. It's a look of approval. The reasons are varied. In this wartime spring a show of fragile frills offers welcome relief from the trappings of war. There's something about a "fluffy ruffles" blouse (see cover) which is reminiscent of the carefree days of childhood and the scent of sun dried clothes. It's the perfect foil for a tailored, mannish suit. Small wonder that this spring, when most women are wearing suits, the sheer blouse is tops in popularity.
Crisp bows are as popular as ruffles. This blouse has two.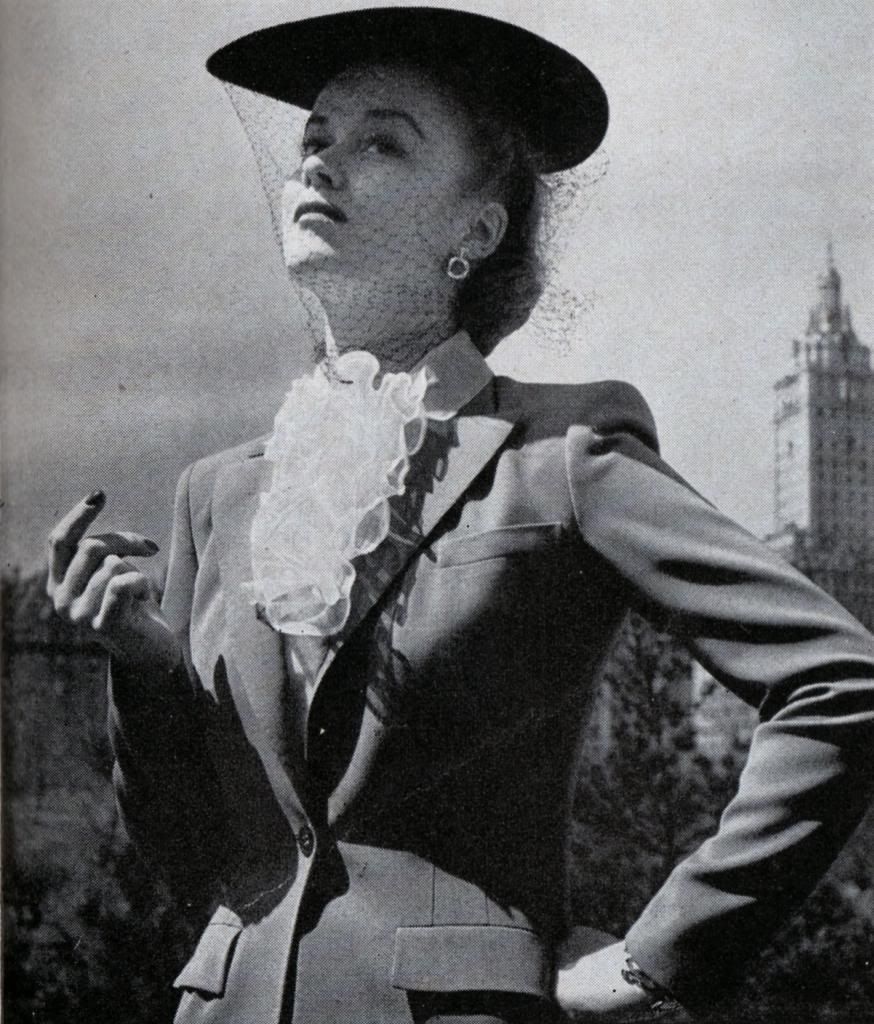 Sheer ruffles ripple down the front of Joan Smith's dickey.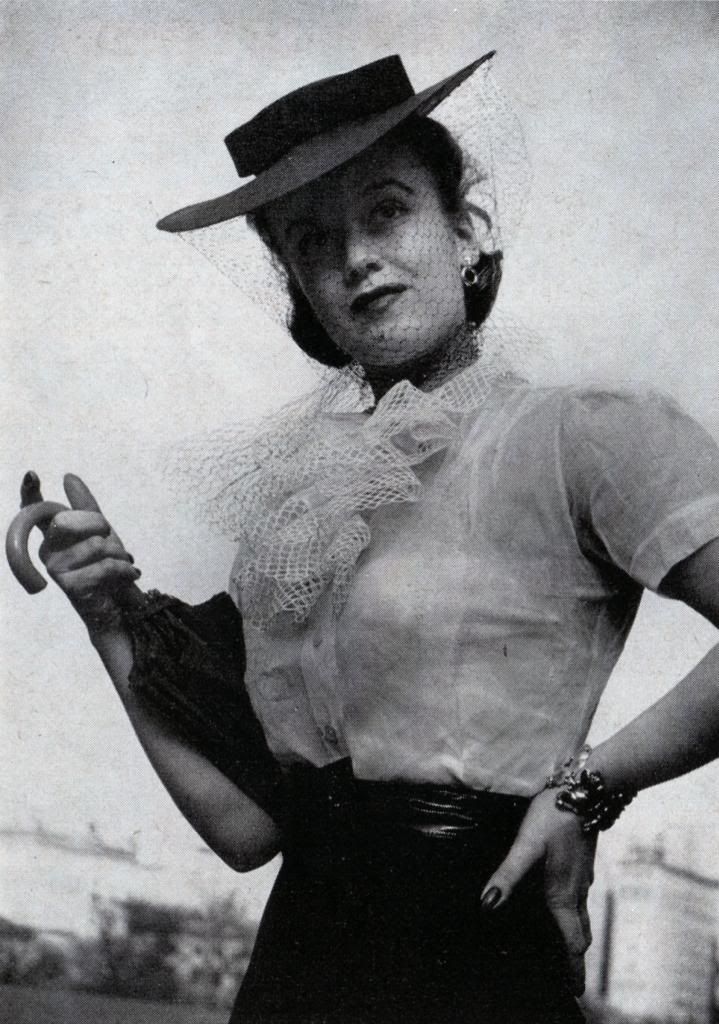 Frills in front help round out flat-chested girls, should be avoided by big-bosomed women. Although young looking, they can be worn by either grandmothers or juniors.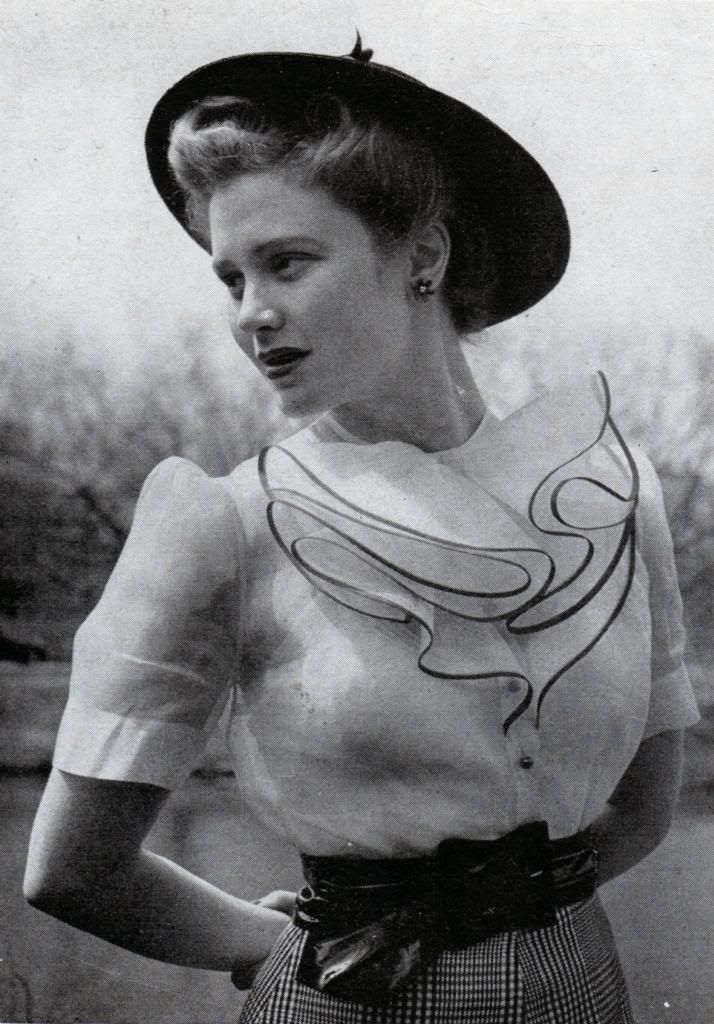 Pleasant front confusion is caused by this frill piped in bright red. Sheer blouses look lovely but are a headache because they wrinkle easily and slip and bra straps show.
Honestly, I have mixed feeling about this article. I'll more or less skip analyzing the sexist intro, because hahahaha... *inappropriate hand gesture*. It's the clothes. First off - one of the things I love most about 40s fashion is how rigid, traditionally masculine silhouettes meet ultra feminine girliness, and result in a mutually symbiotic accentuation of both influences. (Whoa, that sentence, sorry guys.) So you'd think this would be 110% my cup of tea, but... not quite.
Perhaps it's a matter of color choice. Not a big fan of pastels, especially paired with insanely girly frou frou. So photos #1, 2 & 4 don't do that much for me.. until I imagine them in hues of my own choosing:
#1 - Would murder me in all black. Serious secret goth vintage girl dream outfit... I mean there is already a parasol involved. Gah.
#2 -The hat is perfect. Let's leave that be. Could you imagine this with a black blouse & a bright suit (or visa versa)? Or really any combos that might involve these colors: chartreuse, evergreen, burgundy, raspberry, dusty canteloupe.... Yes, plz.
#3 - Well, pass. I hate it.
#4 - I'd pick a different hat. But that blouse! The rigid netted jabot is incredible. I'm going to make one. (In black, duh.)
#5 - EVERYTHING ABOUT THIS IS PERFECT. The hat. The sheer blouse with bright red piping. The houndstooth. The wide patent leather belt. I must replicate this, or I will perish.
Beyond what I think of these as outfits, I have to say this article was a bit inspiring. You don't have to buy or make an entire blouse to pull these outfits off - all you have to do is make a dickie or jabot! It was the perfect wartime accessory. Minimal fabric or sewing skills required. Just pop on top of something already in your wardrobe (or under in the case of a dickie), et voila! The illusion of new clothes.
There are some adorable wartime patterns on Etsy right now... some of them get quite pricey though (the curse/blessing of uncut patterns.) Honestly, I think many of these can be made sans pattern, but these are fun to ogle for inspiration at the very least.
What did you guys think? Are the ruffles too much? Which was your favorite (and in what colors?) Am I the only one who hates that 3rd outfit? Ha.
Til next time..
xox
Sara