British Models Win Style Victory in South America
Life, June 16, 1941
Eighteen willowy English clotheshorses descended on South America last month to win for England the South American fashion trade. Nine of the charmers disembarked at Rio de Janerio. The other nine went to Buenos Aires and then to Montevideo. Reporters indicate that this shapely battalion armed with the subtle weapons of silk and spice and everything nice won a major

British victory.
In Buenos Aires, under the auspices of the British Embassy, a series of swish fashion shows were held in the Alvear Palace Hotel. Nine leading English dressmaking establishments were represented. Since some of the manikins had put on weight in the wrong places during the trip over, a few hasty operations had to be made. After the shows, the girls were discreetly introduced to Argentine society and playboys. All of them were under strict orders to 1) not wear any of the show clothes privately, 2) keep in group

s of two and three, 3) never spend a night outside the hotel.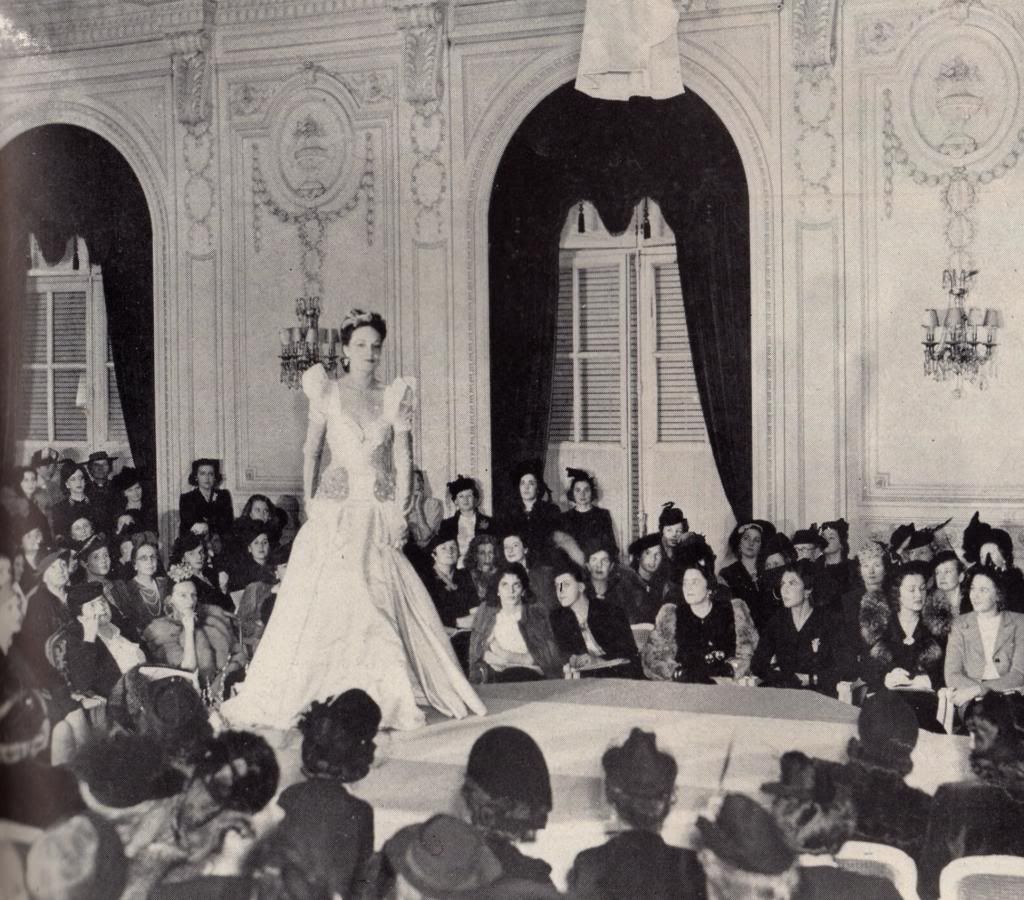 Argentine society in Alvear Palace H

otel watches regal Peggy Meredith model a Worth evening gown of satin.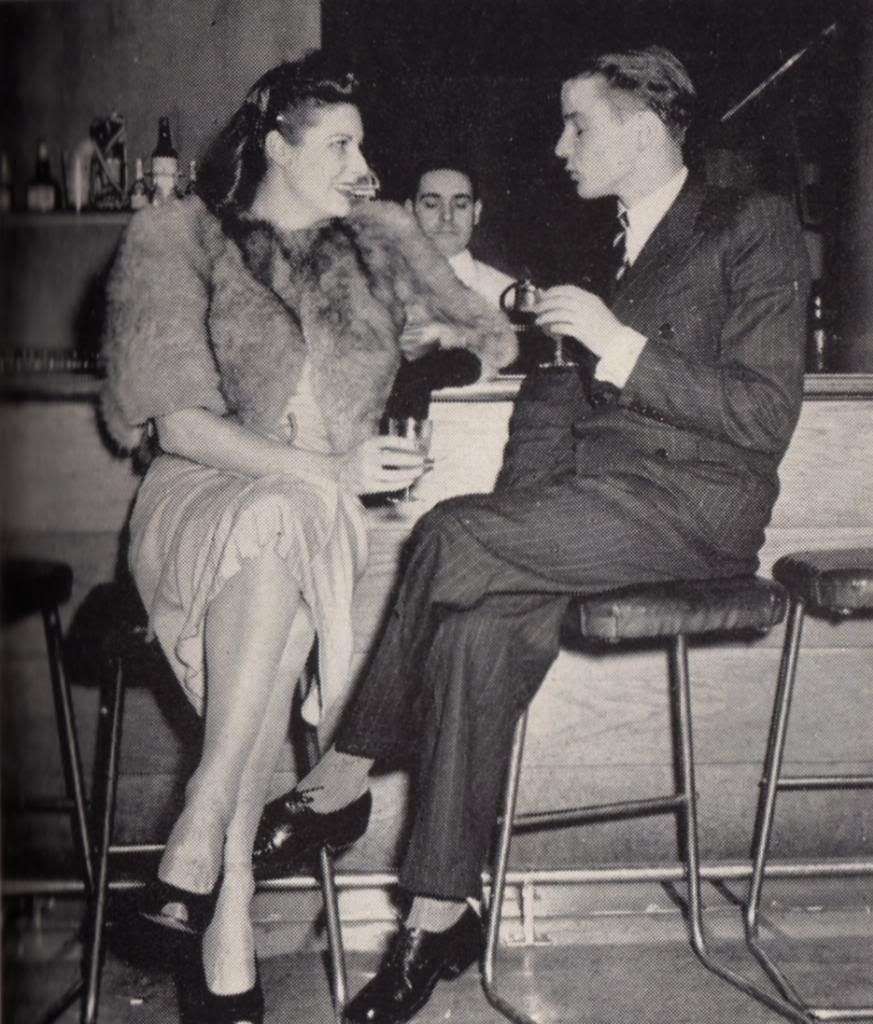 At Plaza bar, Ann Gethen, Paquin model, chats with son of Marquess of Tweeddale, David Hay, survivor of a naval b

attle off Africa.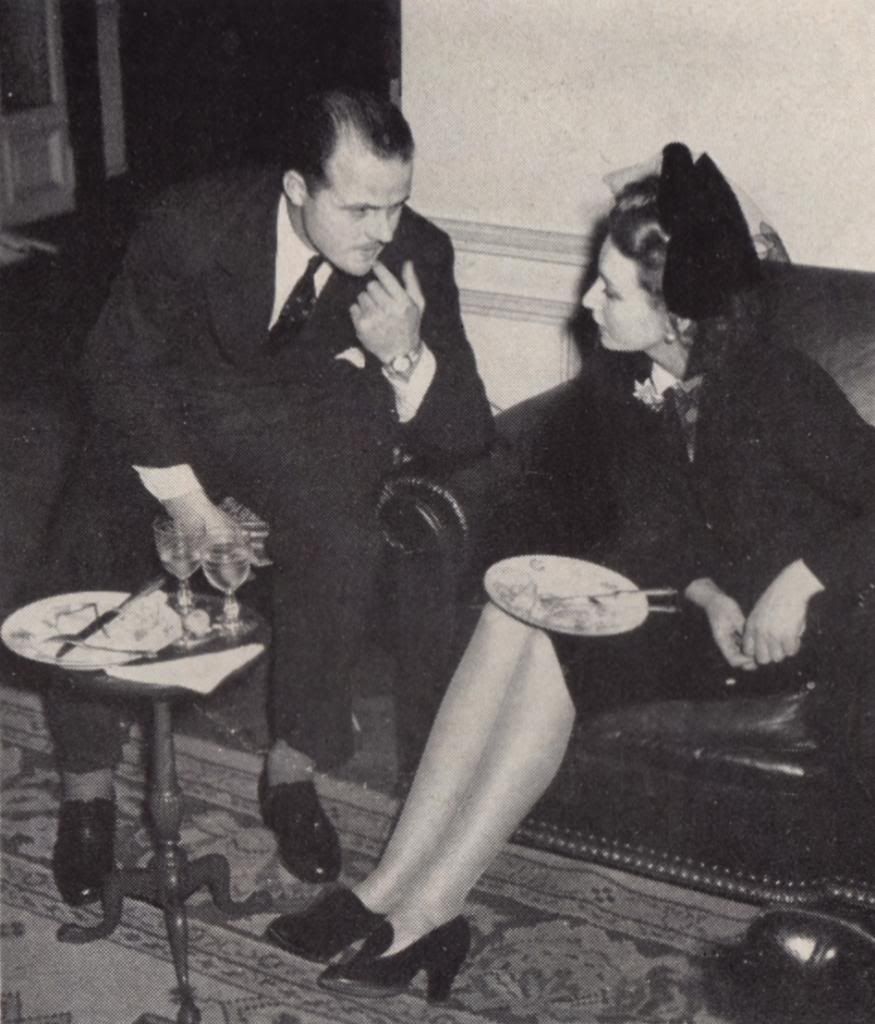 Rosemary Chance, n

ie

ce of Lord Willingdon, at party for models in Arge

ntine architect's house, chats with socialite "Tito" Casares.
Geared to local taste is this Worth dress with hip-length jacket of black crepe with ruffled neck and cuffs. Elegant ladies of Argentina are partial to simple, well-cut black-and-white outfits. Peggy Meredith modeled all clothes from house of Worth.
Matching accessories were used in several collections Dig

by Morton designed above outfit with hat and blouse of same fabric.
Nina Trent, Creed model, won applause in light coat with black saddle stitching on sea

ms and pockets.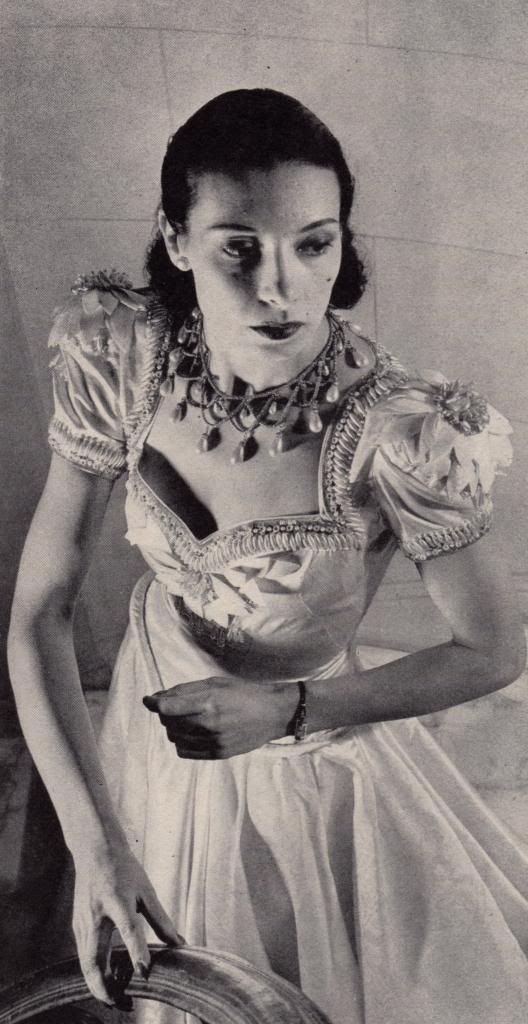 Dolores, whose real name is Dorothy Stephenson, ably represents Norman Hartnell, dressmaker to H. M. Queen Elizabeth. Gown above, called "Plantagenet," is of oyster white satin with elaborate shell and bugle embroidery on bodice and shoulde

rs.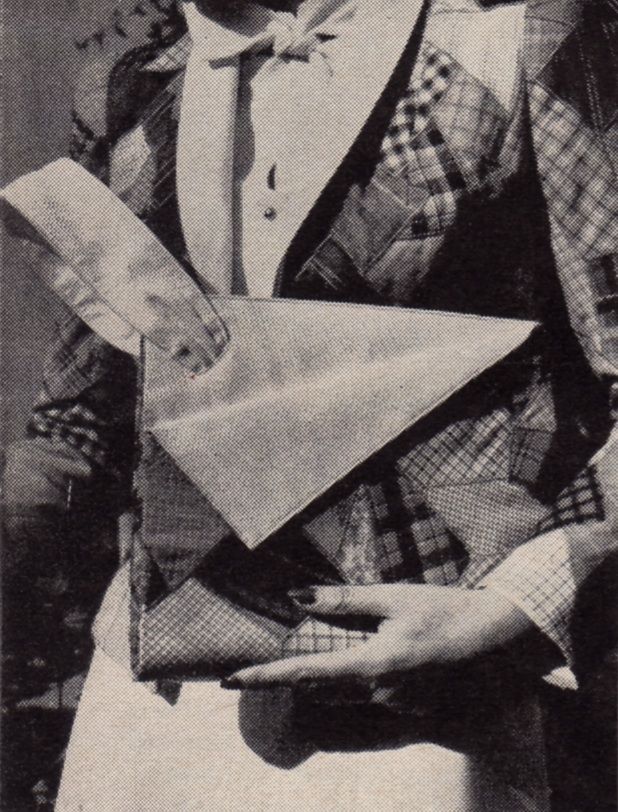 Patchwork jacket and matching handbag, designed by Digby Morton, is worn with a simpl

e

white pique

dress.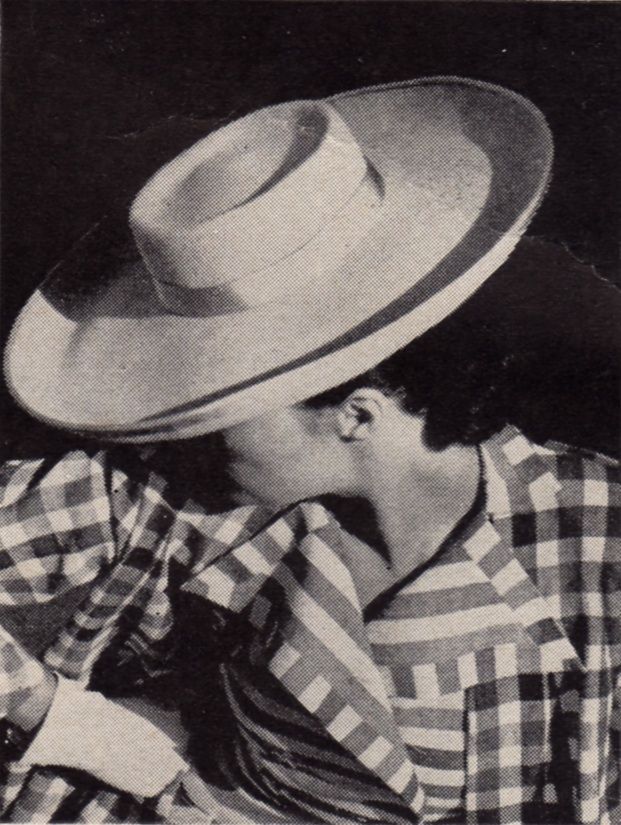 Stripes and checks are cleverly combined in this Worth linen suit. Checks in jacket and stripes

in dress are of the same colors.
Linen beach outfit in soft rose and ivory, designed by Normal Hartnell and model

ed by Dolores, is one of the few active sports clothes shown. Note the British crest above.
---------------------------------
Let me

be the first to admit:

The beginning of this article did not do me any favors, but by the end I was won over. What in gods name was that last paragraph about? Between shaming a few models for "gaining weight in the wrong places",

mentioning they had to go hang out with some smarmy "playboys", and then clarifying the rules the models had to follow

... nah, no thanks. Well, other than the use of the adjective "swish" - which I am definitely stealing

.
But THEN

. I flipped the page and all was well with the universe.
I can't pick just one aesthetic favorite, for they are all incredible. And the last outfit makes me want to gouge my eyes out, it's too perfect. But I think if I had to pick ones I'd like to own, the decision is easy - the black & white Worth suit, and the check/stripe Worth outfit. I can't quite tell what's going on with the sleeves on that suit, but it looks like something unusual i

s

occurring. And that hat/ruffle/gloves combo? I die. I wonder what color the stripes & checks outfit is

,

I want it in red & white. If I were more motivated to sew, I'd already be

hunting down fabric.
What were

your favorites?