Today, I want to share this fashion gem from 1943. I don't think Life really knew what to make of any of this. The article is called "Leotards", and yet it kind of just devolves into some sort of "college fashion" feature. Regardless, it features early Claire McCardell (the first 4 images, including the cover), shot by Nina Leen. Double whammy of favorites. It's apparent they have mixed feelings about, well, all of this... Even in the book I have on Claire McCardell, they reference how she was kind of being tongue-in-cheek mocked here. At the same time, while she had been featured in Harper's Bazaar a few months prior to this article, this Life spread turned out to be a giant stepping stone in her design career. (And just like that, the mockers become the mocked.)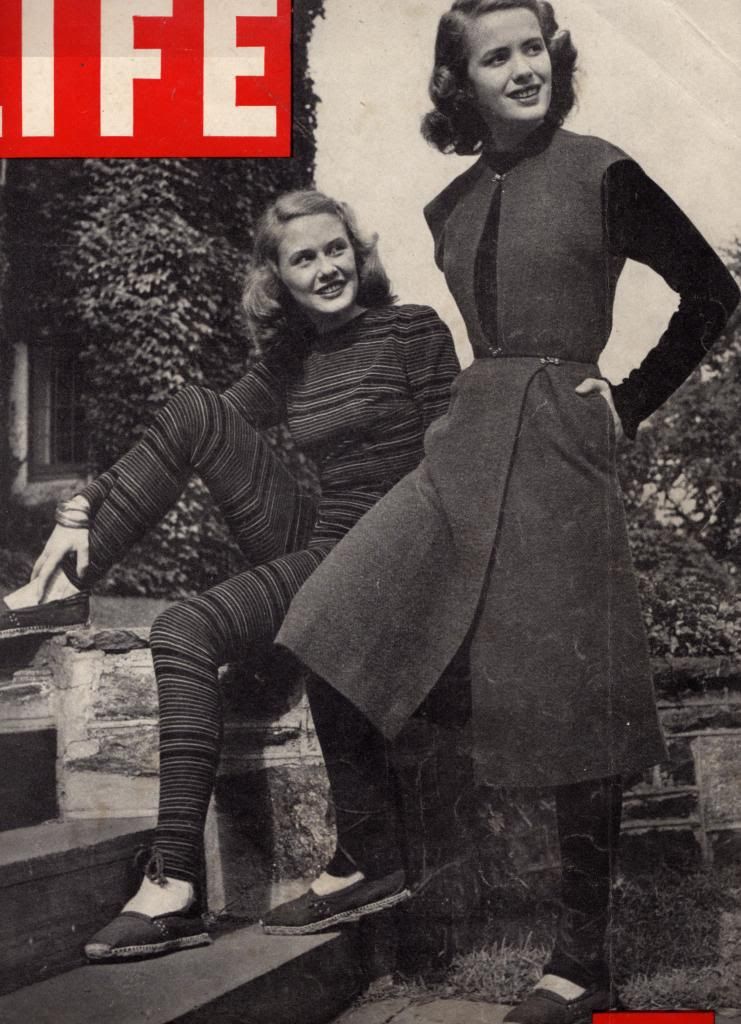 "Leotard" is a new word in fashion parlance. Webster's unabridged dictionary defined it as a "short, close-fitting sleeveless garment cut low in the neck in front and gusseted between the legs. It is worn by acrobats and aerial performers." Although the description does not exactly fit the strange-looking garments shown on this page and on the cover, the fashion world is calling them "leotards." They are in fact more reminiscent of equestriennes' or jesters' tights, 17th century gaskins, and long winter underwear. Harper's Bazaar launched the leotard idea, with a few sketches, in January. By August it appeared in its college-clothes issue as a wartime fashion for the college girl. Mademoiselle picked it up, also as a college idea. Vogue ignored it.
Wartime fuel shortages may drive the college girl into this strange silhouette. College girls, although allegedly faddists, like to be comfortable. Leotards, with long-sleeved tops as warm as a sweater and long legs as cozy as slacks, may be the practical solution to chilly classrooms. With nothing but a brassiere and panties underneath, a skirt or jumper over, a girl can be snug and warm indoors or out in this new kind of tights.
Despite the annual hullabaloo about clothes for college, a survey of the fashion magazines shows that basically they change not at all. Sweaters and skirts, odd jackets, tweed and flannel suits, slacks, berets, caps and beanies are the perennial classics. For a brief review of college clothes, see the pages which follow.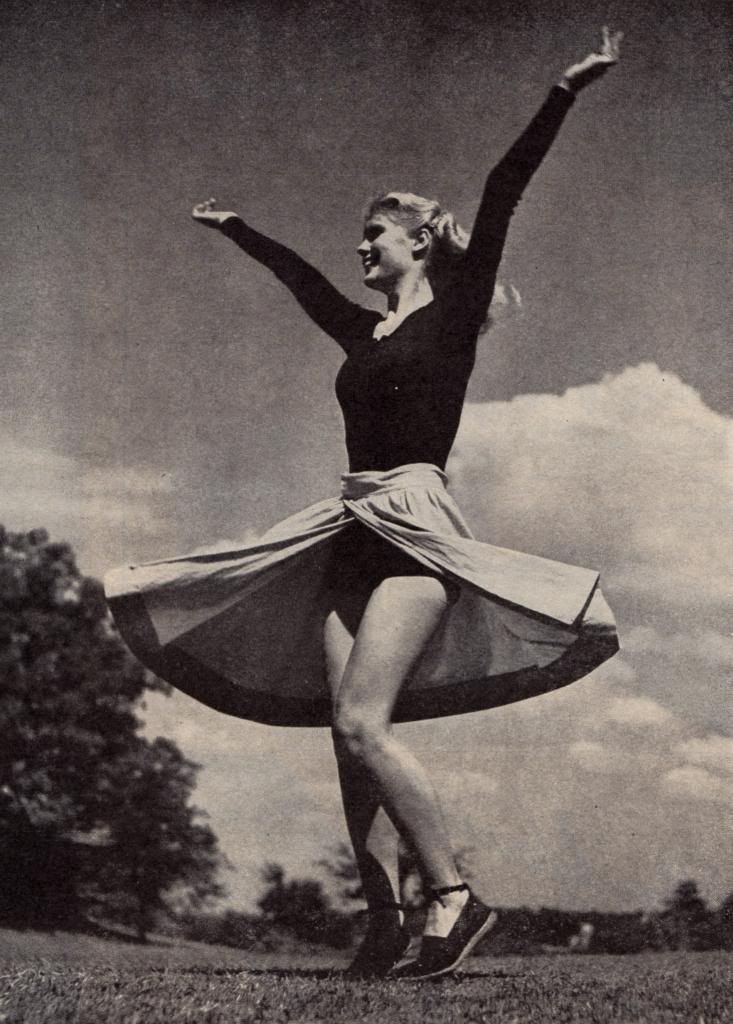 "Mademoiselle" suggests short leotard, "smooth as a second skin"… wear with long or short skirts.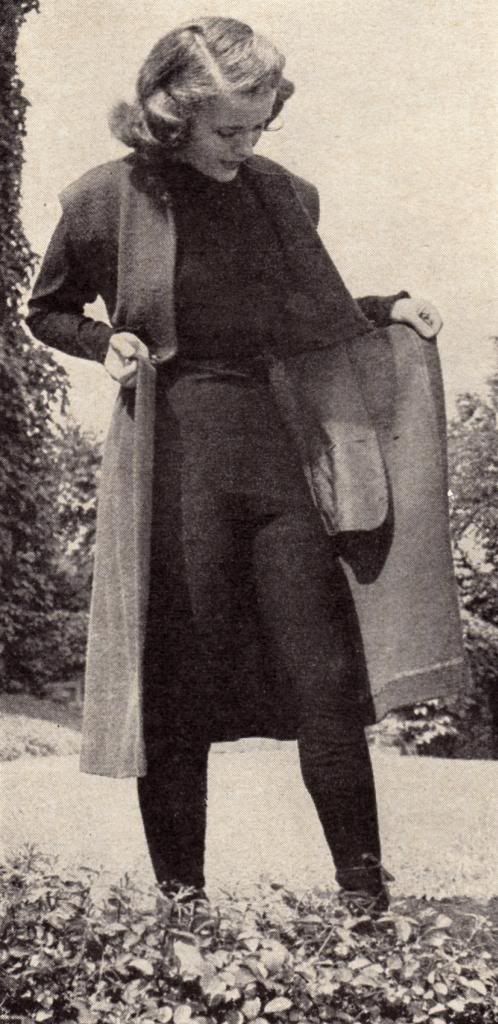 This is a "leotard", new wartime fashion suggested by Harper's Bazaar for college girls. Over it goes a one piece jumper.
Striped jersey, used by Designer Claire McCardell to make this long wool jersey leotard, gives the wearer a tiger look.

"Vogue" cover features this "polydextrous gray flannel suit" modeled by Anne Norring, "typical campus-citizen-of-the-world." Pretty Anne has never been to college.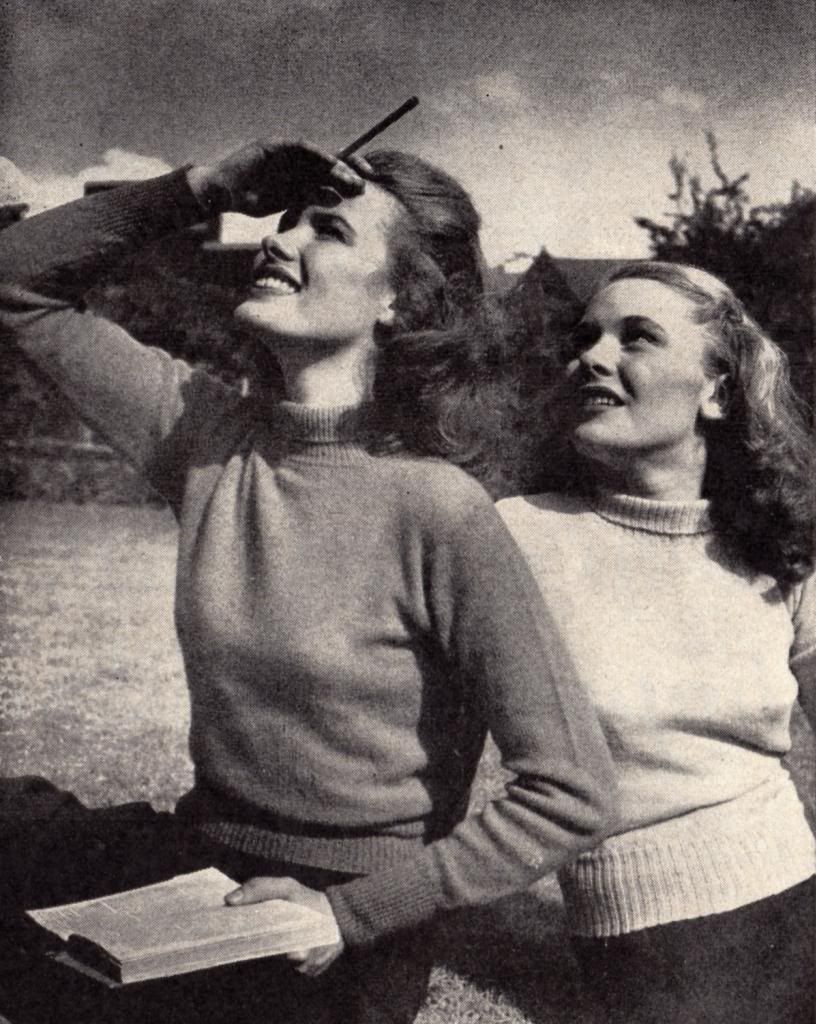 Turtle-neck sweaters of wool are a Harper's Bazaar suggestion for girls who want to wear cotton pinafores to college. Sweaters may be worn under pinafore or jumper.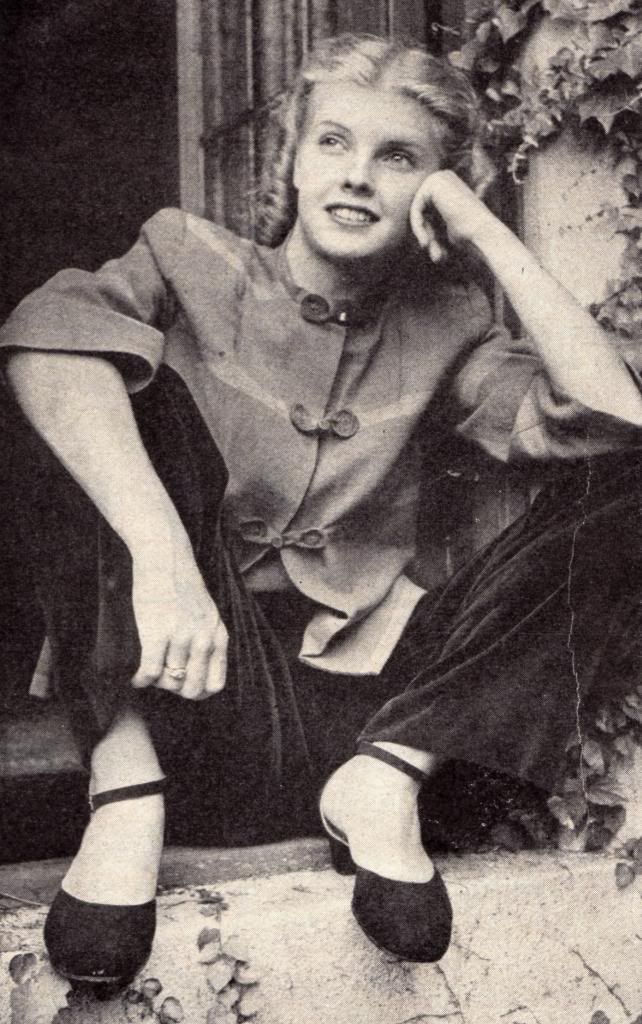 Chinese influence is sponsored by Mademoiselle. This outfit, called nightshift (but obviously not for sleeping), has a coolie coat of striped cotton and velveteen slacks.

"We're mad for the plaid" writes Mademoiselle in college jargon of this outfit. "It's so snazzy for this fringed-in-front skirt, cut slim (…ixnay on fullness) and short.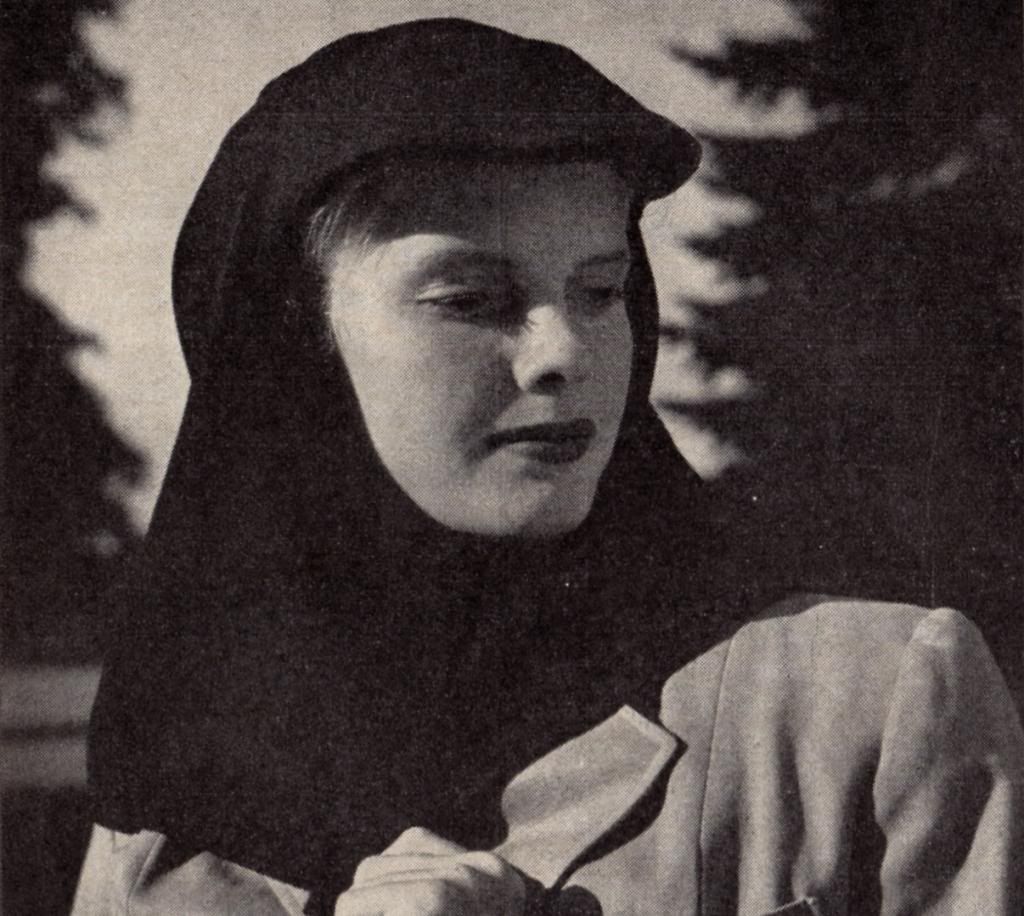 Wave's Havelock is according to Harper's Bazaar, "something." College issue rated many "somethings", ended with "Anything is never as good as SOMETHING."
Felt hat, like little boy's cap, was "dreamed up for you by Betsy Tyree of Virginia Intermont College," according to Mademoiselle. Here cap is worn by Barbara Luff.
Skullcap of green felt has red wool border and tassel. Fashion magazines show caps, bumpers, berets and beanies with college clothes, ignore the popular head kerchief.
That's all for today - What's your favorite? Not going to lie, I'm pretty obsessed with the striped leotard. I think the attraction is most certainly related to being raised on Hanna Andersson striped pajamas, but that doesn't make the clothes lust any less sincere.
Hope ya'll are doing swell! Keep your eyes peeled for an outfit post coming up soon here;)